Top 3 Most Popular and Easy Ways To Style Fishnets
Posted by TRINA THAI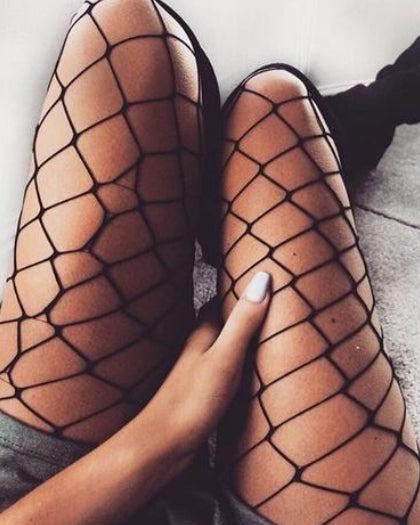 Top 3 Most Popular and Easy Ways To Style Fishnets
Ever thought about taking your street style game up a notch?
Well now is just the right time!
One of the biggest street style trends that established new ground at the New York Fashion Week this season, were fishnets.
That's right. Our very own fishnets are back with a bang. And this time, it looks like they are in for the long haul.
Now I know you always probably thought, "Ohh fishnets. Yeaa I could never pull that off". (Sigh)
In a few seconds, I'll be proving you wrong.
It is all over Instagram, and it is taking over Snap Chat as well! Our favourite celebrities have started sporting the trend in a big way too!
Hailey Baldwin and Kendall Jenner have already shown us how to style fishnets and keep it sexy!
As a matter of fact, Kenny demonstrated one of the most booming ways of styling fishnets. (More on that in a bit)
If you're still hesitant on trying them out or if you are out of ways on how to wear it, here are the top 3 popular ways to style your fishnets:
Under your ripped jeans – This is the most popular ways to wear fishnets. It is not that difficult to pull off and it looks super sexy, with a tad bit of texture peeking through your ripped jeans.
Kylie Jenner also showed us how you can take it to the next level by wearing your ripped jeans a little lower from your belly or rolling it down at the waist so that a bit of your tight-knit fishnets are seen along with their band. You can also roll up the hemlines of your jeans to let your fishnets peak at your ankles too.
Team it up with a statement Tee and you are ready to rock street style like a boss!
2. Under your mini skirt – Why shy away from showing your lean long legs? Wear those cute miniskirts and make it extra stylish by wearing fishnets underneath. You can pull up your tights above the waist or wear your skirt a little below the waist to let your fishnet tights waist band peek above.
This style goes for any bottom actually. You will be surprised how a seemingly boring bottom separate, like the old-fashioned micro shorts can be made super stylish by wearing fishnet tights.
3. Matching it with accessories – You can wear some statement accessories like a faux fur coat or checkered scarves with fishnets. The idea here is to mimic the pattern of your fishnets, so that you can create a symmetry, but not one that is "in-your-face". You can also wear pumps or flats with a hint of colour, and team it up with a similar coloured coat, to create the symmetry. 
Apart from all these, the traditional ways of wearing them with simple shorts and skirts are still good enough. If you dare to play with a little edgy fashion, you can try these styles. Rest assured, in no time, you will be the biggest trend setter amongst your squad!